Regular price
24,90 zł PLN
Regular price
Sale price
24,90 zł PLN
Unit price
per
Sale
Sold out
Beeswax birthday candles
Ancient Greek tradition
Beeswax birthday candles placed on the cake symbolize the number of years the birthday person has lived. This custom dates back to Greek times, when round cakes were decorated with candles. Baked goods decorated in this way were taken to the temple of the goddess Artemis. The smoke rising upwards was supposed to raise prayers to the Greek gods, as well as requests for good luck. The tradition was continued in medieval Germany, because it was believed that the candlelight would protect the birthday person from evil spirits and ensure good luck in the next year of life.
In Europe, the custom has survived to this day. The number of candles usually corresponds to the age of the hero of the celebration. It is a common belief that you should make a wish before extinguishing the candles because then it will surely come true.
This symbolism has its roots in a purification ritual. It was believed that fire relieves the burden of what happened last year and allows the next year to begin with a new goal.
Beeswax birthday candles
Our birthday candles are made by repeatedly soaking a cotton wick in heated beeswax. To create the finished product, we use 100% pure wax, i.e. without any natural or artificial additives. Thanks to this, birthday candles have a nice, bright color, and when lit, they emit a wonderful scent of real honey. The quality of the raw material is ensured by our long-term cooperation with friendly apiaries. The attractiveness of candles in the eyes of adults, and especially children, is emphasized by colorful wicks in all colors of the rainbow.
Reusable beeswax birthday candles
Every birthday party participant knows perfectly well that the most important moment in the short life of the candles placed on the cake is when the birthday person blows them out. Our birthday candles burn for up to 20 minutes, so we can still use them after the party. It's a good idea to light them for decorative purposes. In addition, beeswax has known and proven health-promoting properties, so it is worth using candles, e.g. for aromatherapy. They will not only have a great effect on the respiratory tract of people with asthma or allergies, but also on the circulatory system. Beeswax has a great effect on our nervous system, so candles lit in the bedroom calm down and make it easier to fall asleep.
---
Specification
| | |
| --- | --- |
| composition: | 100% beeswax |
| height: | 10 cm |
| diameter: | 1 cm |
| approximate burning time: | 20 minutes |
Packaging
10 pieces of birthday candles with colorful wicks
Libra
Approximately 17 g/pack
---
Share
View full details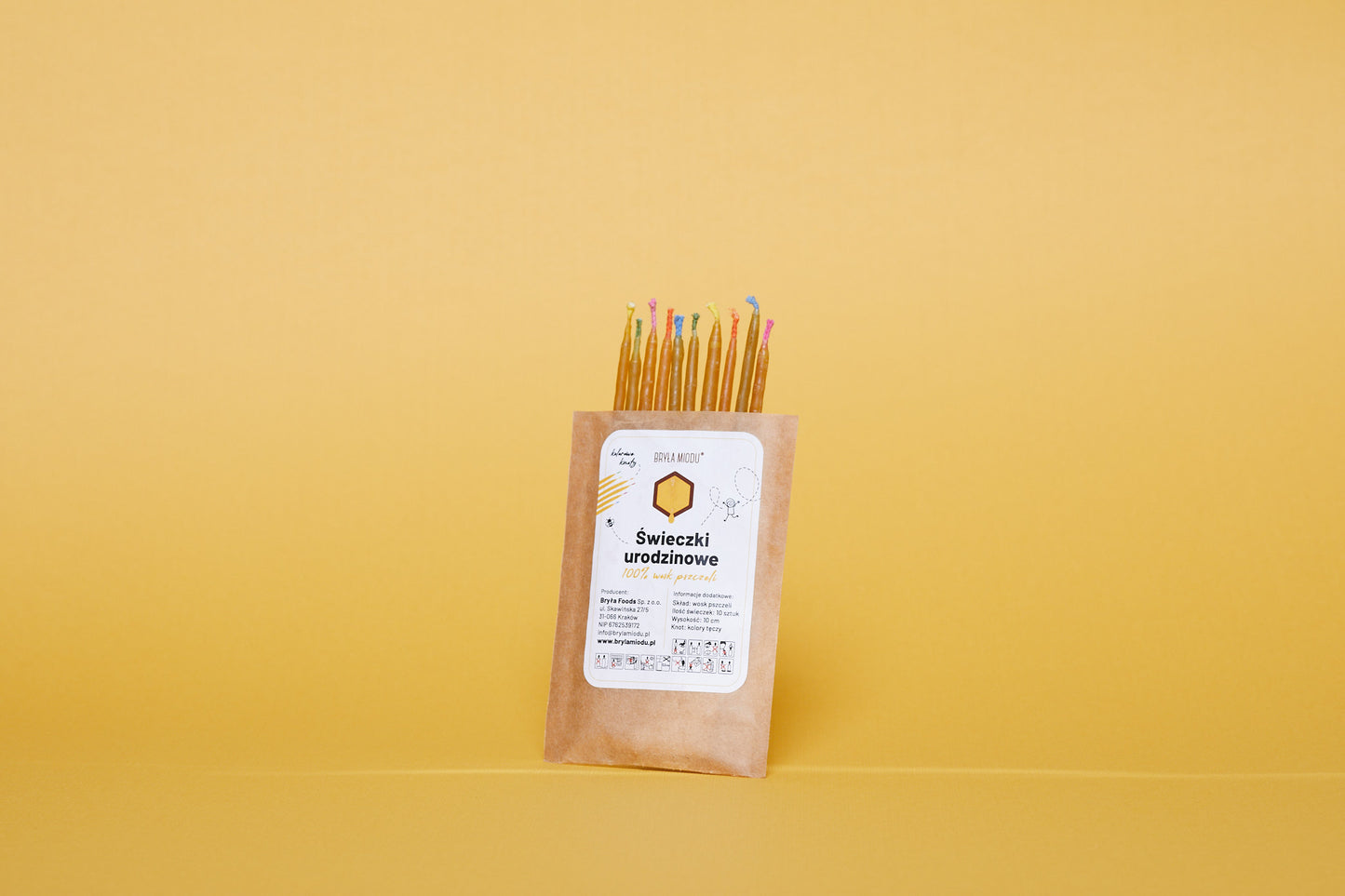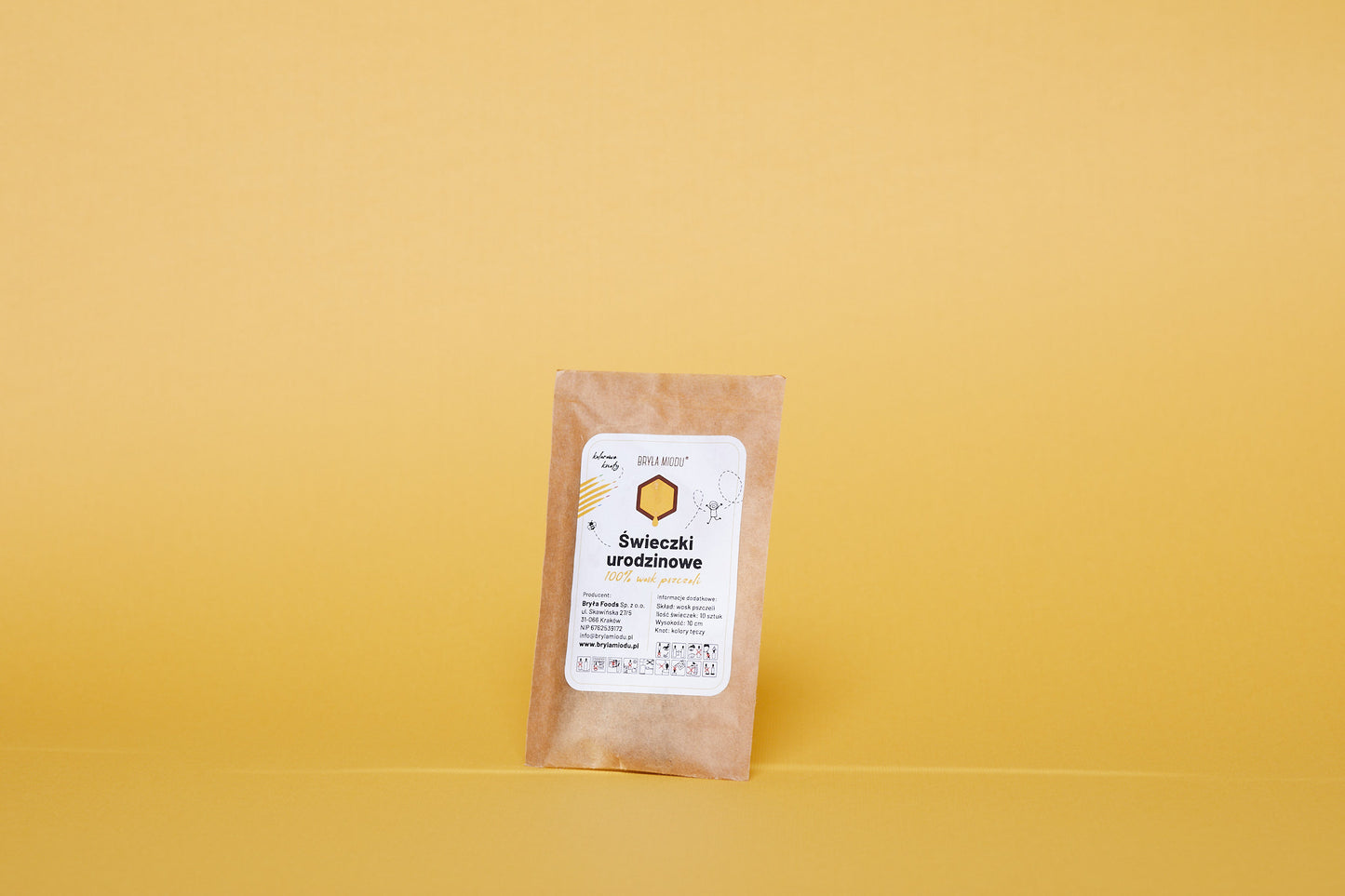 to są najcudniejsze świeczki tortowe! Palą się łagodnie, bez kapania, które zawsze mnie wkurzało i przyprawiało o palpitacje serca. Te świeczuszki są cudne!!! Do tego delikatnie pachną woskiem, miodem. Cuuudo. Dziękuję!