Regular price
20,90 zł PLN
Regular price
Sale price
20,90 zł PLN
Unit price
per
Sale
Sold out
Honey with orange and ginger
Honey with orange and ginger won the hearts of our customers. It is a perfect combination of high-quality multifloral honey with fresh orange and ginger. It was created in our factory from carefully selected, natural and unpasteurized products.
Honey with orange and ginger - ingredients
| | |
| --- | --- |
| multifloral nectar honey | 95%, |
| Orange juice | 3%, |
| grated ginger | 2% |
Oranges - a reservoir of vitamins
Oranges are a rich source of vitamin C, which belongs to the group of antioxidants. Vitamin C reduces the risk of cancer and heart disease and contributes to a decrease in blood pressure. It also shortens the duration of bacterial and viral infections. One ripe orange contains about 120-130 mg of vitamin C, which covers 130% of the vitamin C needs of an adult.
Oranges are an excellent source of B vitamins, vitamins A and E, magnesium, calcium and phosphorus . High content folic acid has a beneficial effect on the skin and nervous system, while the presence of potassium helps maintain normal blood pressure and heart rhythm.
Multifloral honey as a cure for colds
Multifloral honey collected at the end of summer or autumn, in addition to its strong taste, has many antibacterial properties. It is consumed as an adjuvant in the treatment of colds, respiratory infections and diseases resulting from reduced immunity. Multifloral honey also contains a large dose of silicon, which is the building block of strong blood vessels, and also contributes to the perfect appearance of the skin, hair and nails.
Ginger - an Asian spice not only for the kitchen
Ginger is valued not only for its culinary properties, but also for its effective health-promoting properties. Its advantages are invaluable:
treats viral infections,
facilitates digestion by stimulating the secretion of saliva and gastric juice,
has a choleretic and antispasmodic effect,
relieves nausea,
reduces platelet aggregation, protecting against clot formation,
relieves menstrual pain,
cures migraines,
has anti-swelling properties,
improves blood circulation, wonderfully warming up the entire body.
Shelf life of honey with orange and ginger
3 months
How to use
Mix thoroughly before use.
The storage conditions
Honey should be stored in the refrigerator.
It crystallizes naturally.
Nutritional value per 100g of product
| | |
| --- | --- |
| Energy value | 1331 kJ/313 kcal |
| Fat | 0 g |
| Saturated fatty acids | 0 g |
| Carbohydrates | 79 g |
| sugars | 69 g |
| Fiber | <0.5 g |
| Protein | <0.5 g |
| Salt | 0 g |
---
Specification
packaging: glass jar
weight: 400g, 700g
---
Share
View full details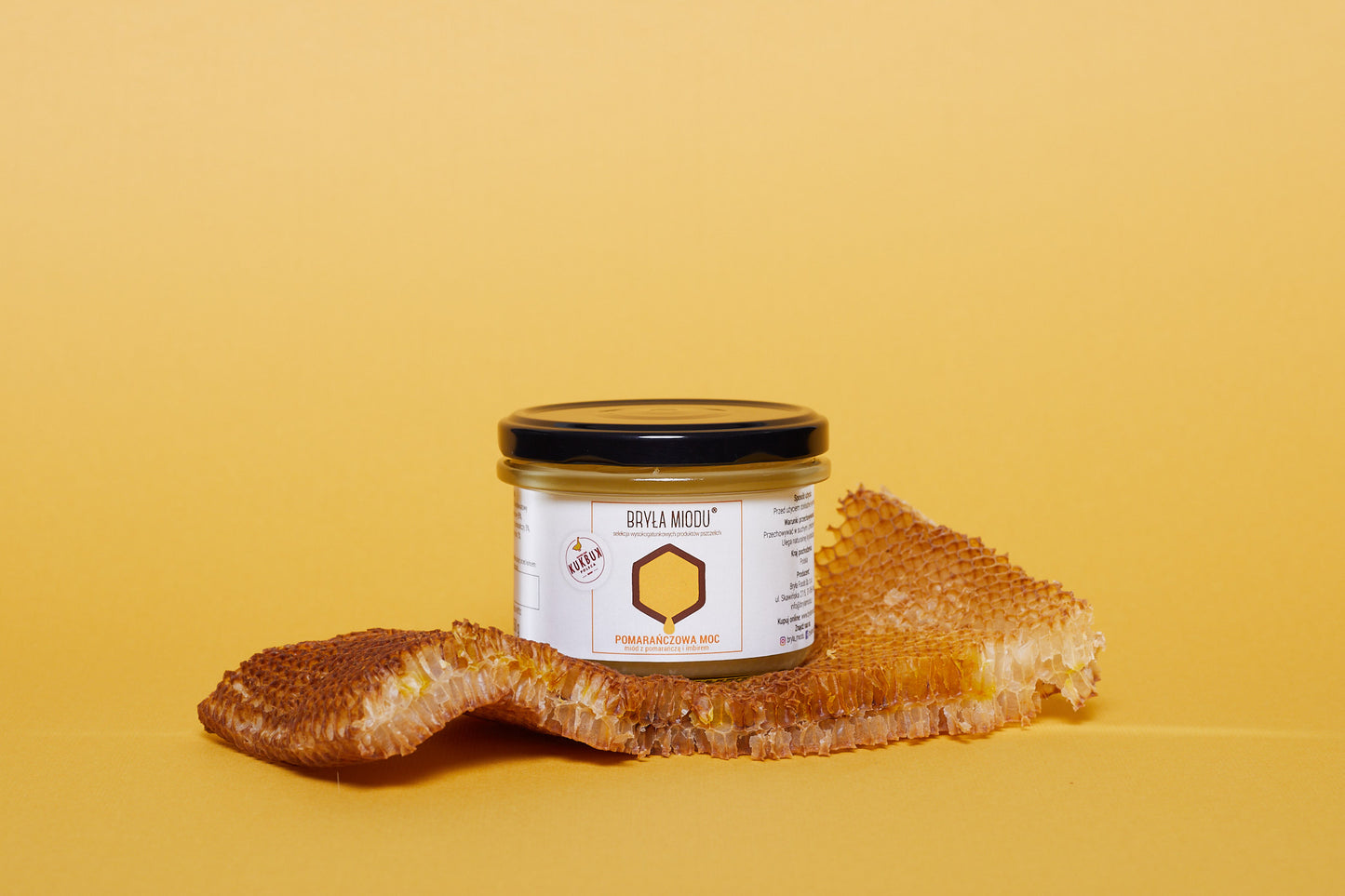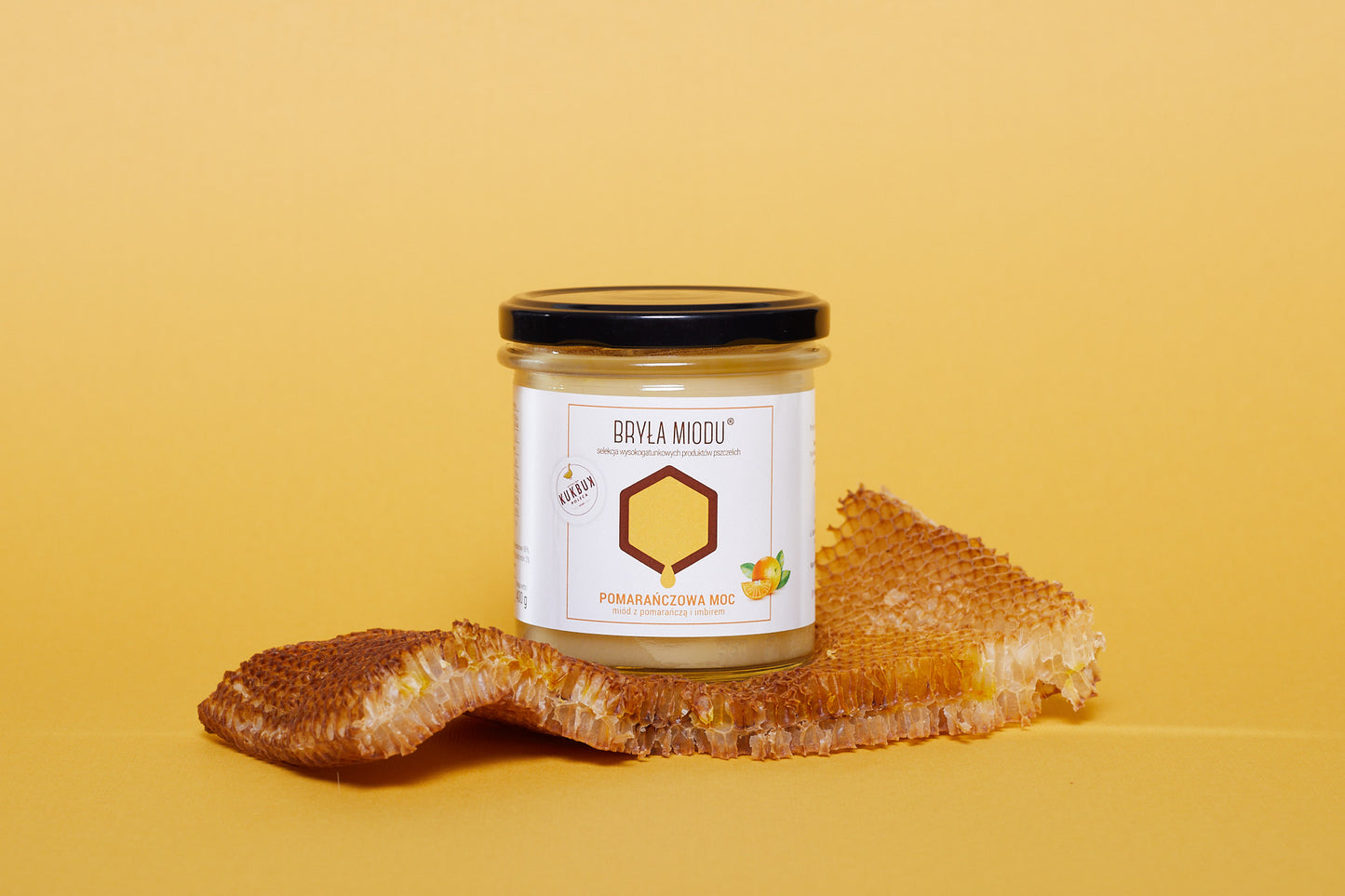 Ciężko się od niego odkleić ;) przepyszny!