Regular price
28,90 zł PLN
Regular price
Sale price
28,90 zł PLN
Unit price
per
Sale
Sold out
honey harvest June 2023
Honey whose taste is remembered by our grandparents. It has unique organoleptic properties - it is spicy, sweet and sometimes burning, which proves that it is rich in bee pollen from nectaring buckwheat. Honey that should be in every home medicine cabinet.

Right next to linden honey, it has the highest antibiotic activity (ideal for colds) and a high enzyme content .
TOP HONEY FOR COLD

Dark sweetness from buckwheat
Buckwheat honey has a dark brown, tea-like and even brown color. When it crystallizes, it has a lighter color and a crumbly consistency. Bees obtain it from buckwheat flowers. The honey has a spicy taste, slightly burning, and has a distinct aroma of white and pink buckwheat flowers. It is certainly difficult to confuse it with other honeys. Compared to other flower honeys, it has the highest content of immune substances. It also includes:
elements: iron, magnesium, phosphorus, potassium, manganese, boron, sodium, copper, zinc, vanadium, silicon,
vitamin C and B vitamins (mainly B1 and B2),
simple sugars,
quercetin and rutin,
minerals.
Buckwheat honey full of benefits
Contains a large amount of carbohydrates. Due to this property, it is especially recommended for hypertension, atherosclerosis and coronary heart disease. The simple sugars it contains are easily absorbed into the bloodstream and very quickly nourish, among other things, the heart muscle.
It promotes the reconstruction of bone cells.
Strengthens the immune system. This property is mainly due to the high content of vitamin C. Rutin also makes ascorbic acid very easily absorbable because it prevents its decomposition and thus accelerates wound healing.
The high content of mineral salts and nutrients in buckwheat honey is effective in cases of mental exhaustion.
Nutritional value per 100g of product
A short list of nutritional ingredients of buckwheat honey in 100g of the product:
| | |
| --- | --- |
| Energy value: | 1420 kJ /339 kcal |
| fat: | 0 |
| saturated fat: | 0 |
| carbohydrates: | 81 |
| sugars: | 76 |
| fiber: | 0 |
| proteins: | <0.5 |
| salt: | 0 |
Buckwheat honey - origin
The buckwheat honey we offer comes from an apiary located in Lipiny Dolne in the Lublin region. Regin, famous for growing buckwheat.
The storage conditions
Buckwheat honey usually contains a large amount of water. Therefore, sometimes after crystallization, a layer of thin honey is formed on its surface, precisely separated from the crystallized part. Therefore, it is important to store it at a temperature of 4-10°C. Honey decreases in volume during crystallization, which causes it to come away from the wall of the jar. It is not a sign of any abnormality and has nothing to do with the quality of the honey.
---
Specification
packaging: glass jar
weight: 250g, 400g, 700g
---
Share
View full details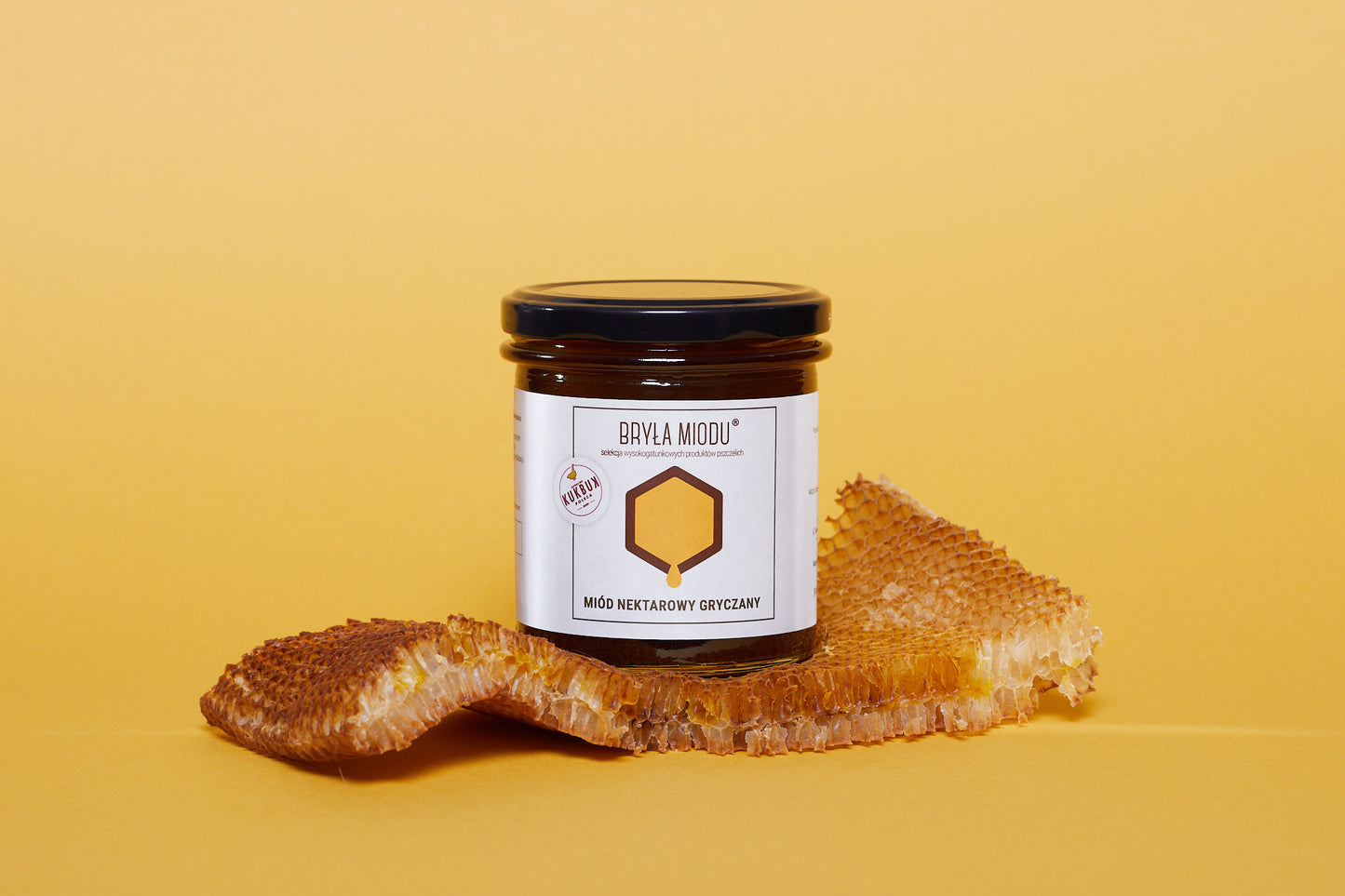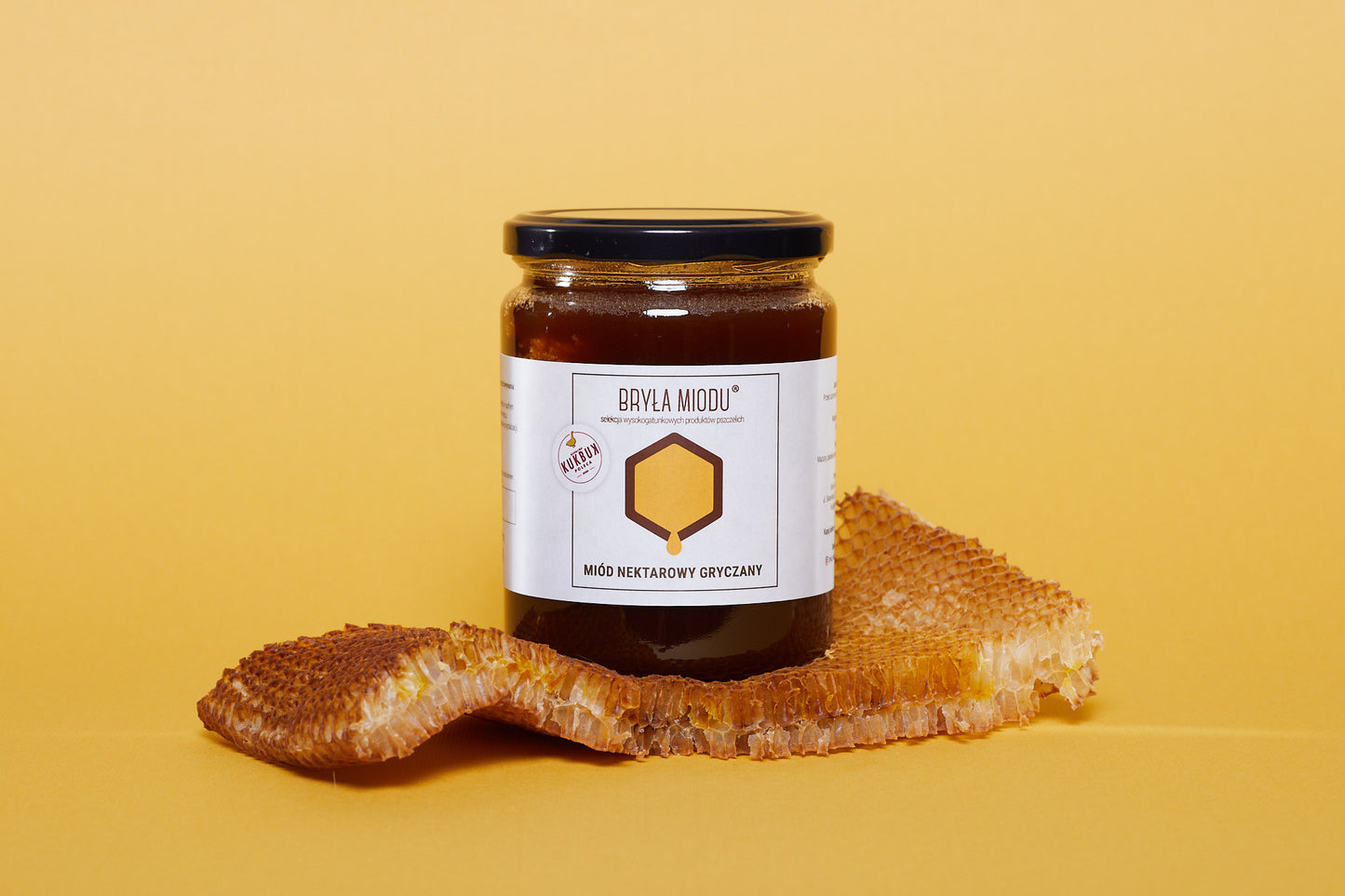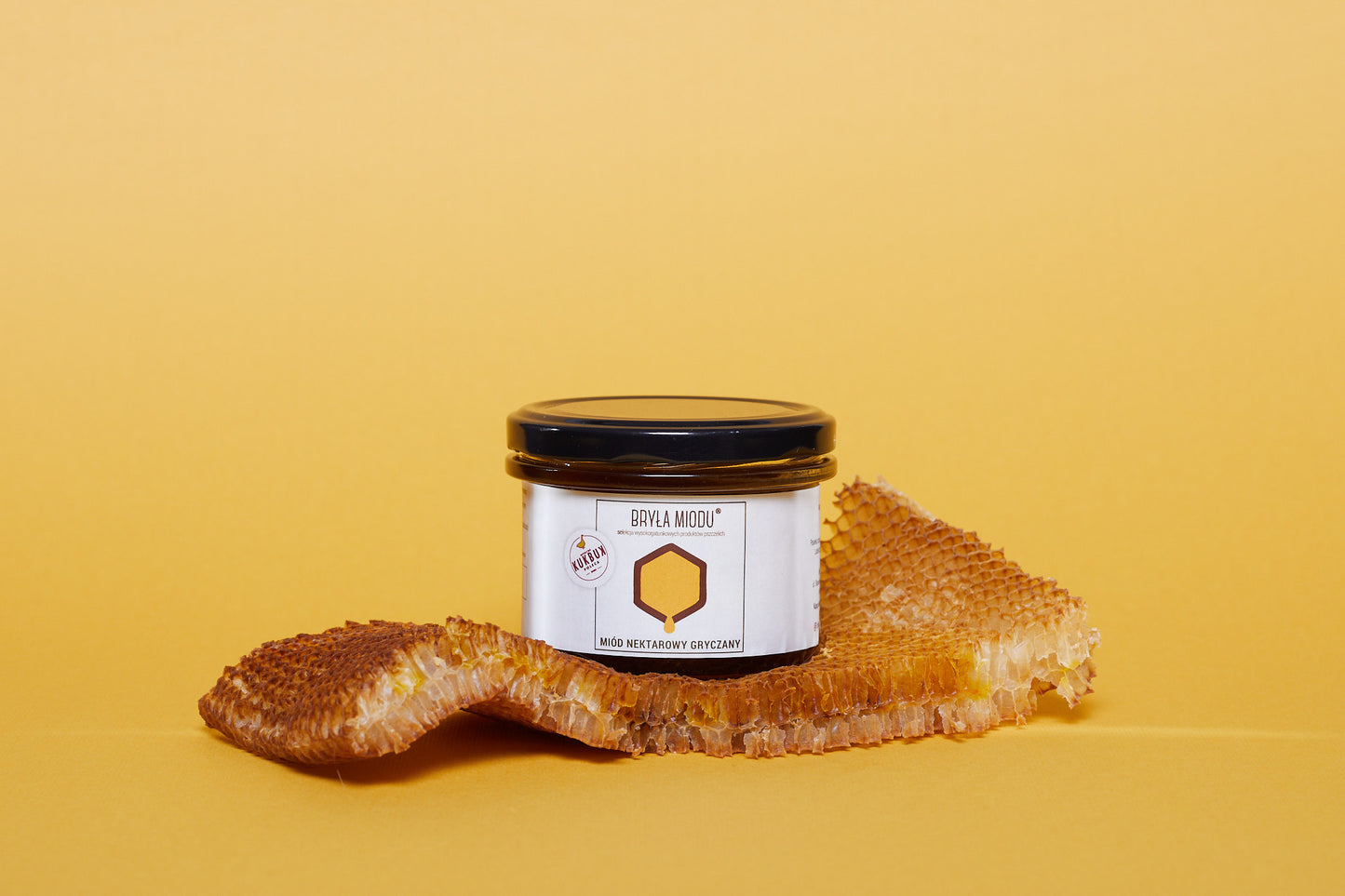 Pyszny!
Przepyszny miód gryczany :)