Regular price
35,90 zł PLN
Regular price
Sale price
35,90 zł PLN
Unit price
per
Sale
Sold out
Ginger power is a perfect duo. The honey is made from a noble variety of linden honey with a large dose of fresh ginger root. It is spicy and expressive in taste. It is recommended during severe infection. GINGER MOC was the winner of the prestigious KUKBUK RECOMMENDS competition.

TOP HONEY FOR INFECTIONS
Ginger Power - linden honey with ginger
Ginger Power - linden honey with ginger - was created by hand in our factory from carefully selected, natural ingredients that have not been pasteurized. The mixture warms up perfectly and helps effectively fight infections.
" A brilliantly simple combination"
Ginger Power is recommended especially during colds and when the body is weakened. Its properties were highly appreciated by the jurors of the prestigious KUKBUK RECOMMENDS 2020 competition "for the brilliantly simple combination of linden honey, which our ancestors ate, and fresh ginger from Asia (...)".
You can read more about the award here or watch the video of the jury's deliberations.
Ginger Power - ingredients
| | |
| --- | --- |
| linden nectar honey | 96% |
| grated ginger | 4% |
Ginger - not only a kitchen spice
Ginger has been cultivated in Asia for over 3,000 years, although its origins are unknown. Ginger was used in the Middle East and southern Europe long before the Romans. It is valued not only for its culinary properties, but above all for its effective healing properties. Ginger helps fight the following diseases and ailments:
treats viral infections - relieves joint and muscle pain. It is a component of some warming ointments and patches. Muscle massage is effective after adding a few drops of ginger oil,
facilitates digestion. Stimulates the secretion of saliva and gastric juice, has a choleretic and antispasmodic effect,
relieves nausea - is an ingredient of medicines against motion sickness,
reduces platelet aggregation, thus protecting against the formation of clots and preventing thrombosis,
relieves menstrual pain,
cures migraines,
has an anti-swelling effect because the essential oil contained in it has a diuretic effect,
increases concentration and mental performance by improving brain blood supply,
it improves blood circulation and warms the whole body wonderfully.
Linden honey - a product of Polish bees
Linden honey is made from the nectar of linden flowers, called the queen of bees. In liquid form, it is golden yellow or greenish yellow in color. After crystallization, it turns cream or yellow-orange. It crystallizes in the form of small grains. It is sweet with a sharp and slightly bitter aftertaste and a distinct floral scent.
Linden honey is a proven antitussive, warming and blood pressure regulating agent. It has a beneficial effect on the nervous system during periods of insomnia or body exhaustion. Due to the high content of easily digestible carbohydrates, linden honey is an excellent ingredient in the diet of people practicing sports or undergoing convalescence. Not only is it a source of easily available energy, but it also supports the immune system.
Shelf life
Four months
How to use
Mix thoroughly before use.
The storage conditions
Honey should be stored in the refrigerator.
It crystallizes naturally.
Nutritional value per 100g of product
| | |
| --- | --- |
| Energy value | 1346 kJ/317 kcal |
| Fat | 0 g |
| Saturated fatty acids | 0 g |
| Carbohydrates | 79 g |
| sugars | 68 g |
| Fiber | <0.5 g |
| Protein | <0.5 g |
| Salt | 0 g |
---
Specification
packaging: glass jar
weight: 250g, 400g, 700g
---
Share
View full details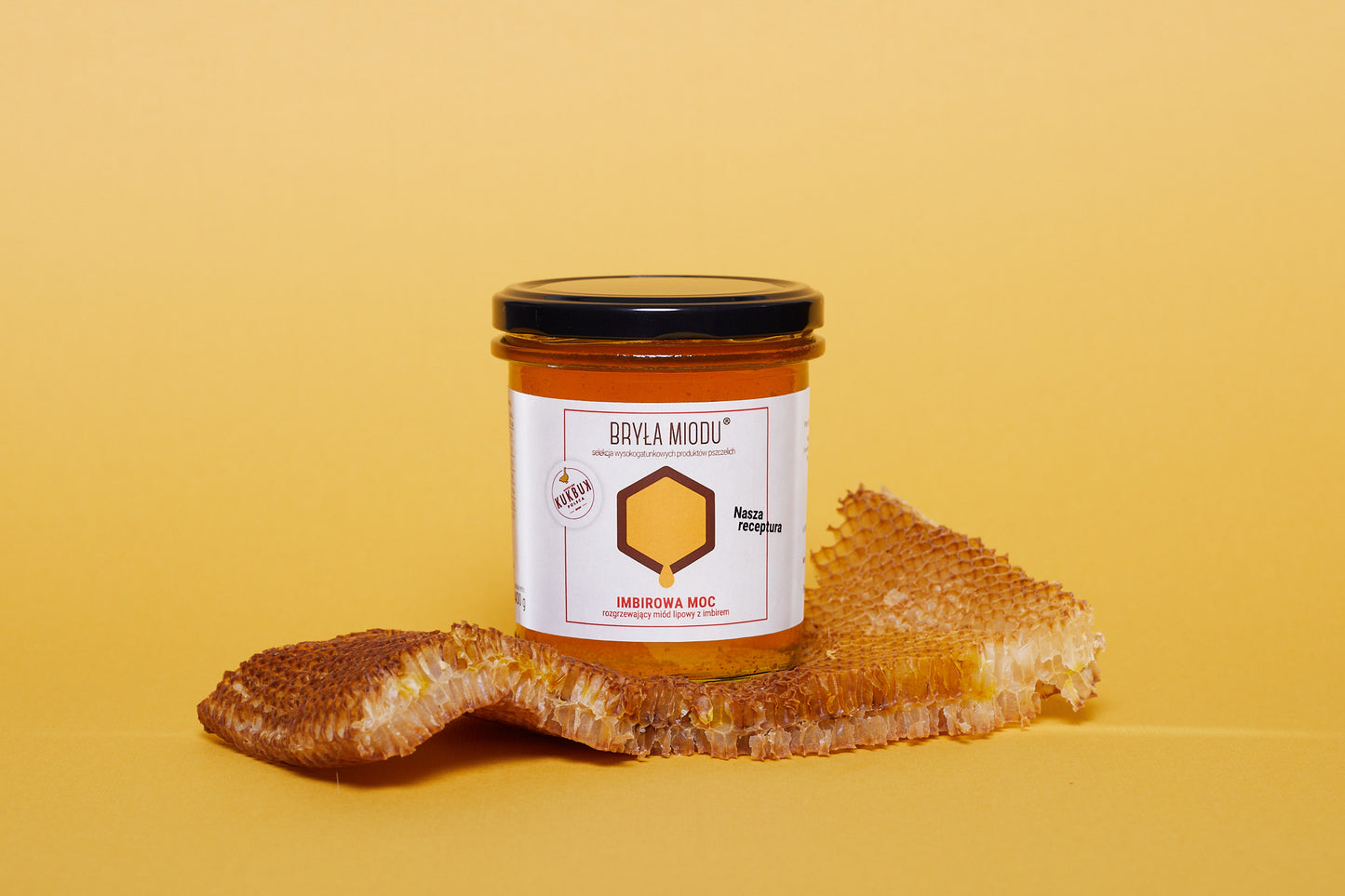 wyjątkowy smak, cudownie rozgrzewa! sprawdza się doskonale w okresie przeziębień
Bardzo polecam produkty Bryły Miodu :) pełen profesjonalizm,doskonała jakość i smak miodów .